You're sitting in your office and not only does it feel uninspired, it's really quite messy and not a place you want to be.  Well that's a real shame because you spend a heck of a lot of time there.  And if you have employees it's affecting them too.  Of course that can be changed with some good design advice.  And you should consider changing it because work spaces that feel good improve productivity.  Lets break it down into some basic fundamentals.
Location, Location, Location
Offices can be set up anywhere however there are some things that should be accounted for.  For instance, if you're working from home you do not want to be packing up your office at the end of every day.  It is also not desirable to see it while you're trying to relax, so try to avoid places like the dining table.  Of course not everyone has a dedicated office space so sometimes we have to get creative.  Maybe you could try for a desk that is on wheels so it can be rolled away easily at the end of the day or create a screen with shelving units or plants.
Whether you're in a city office or home based, natural light and a view to outside plays a really important role in peoples psychology.  On average we spend a staggering 90% of our time indoors.  However a Harvard Business Review showed that a connection to nature is rated as the most highly sought after office attribute.  Higher than gyms, pay rises and onsite daycare.  Why?  Because being in and around nature reduces stress and being exposed to daylight can improve your sleep as it helps to set your circadian rhythm (body clock).   Additionally, the University of Melbourne study showed that a 40 second view to nature will increase cognitive capacity.  These are definitely attributes that would benefit your work life.   Just be mindful that the natural light is not falling directly onto your computer screen as it will make viewing difficult.  Position your desk so that you are facing towards the window (not with your back to it) and even consider simple actions like cleaning the windows to gain as much light as you can. 
Storage
Whether you're in a dedicated office or not, take a look at if you need some storage.  However do not buy storage for storage's sake.  Assess what you truly need to store.  Start with a clean and sort, then write out a list of what needs to be stored and how best to do it.  How much is there and do these things need to be easy to reach?  Maybe they need to go on a shelf or drawers right by your desk. We recommend reducing the amount of clutter that is visible in your office as clutter is distracting and and increases cortisol levels (stress hormone).
You may need to keep a whiteboard running however it doesn't need to be the typical aluminium framed board you see in offices.  Instead consider squares of toughened glass or perspex, A1 picture frames with a block colour in them, or even magnetic blackboard magnetic paint.
Ergonomics & Lighting
Yes this seems a little boring however it can be so important when you're designing your office.  A bad set up will most definitely result in an unhappy you and worst case some expensive Physio bills.  So invest in a good chair, desk and appropriate lighting.
For office lighting we typically go with some excellent overhead lights combined with a desk lamp for task lighting.  Task lighting can be particularly important if you review paper based documents at your desk alot.  And of course the previous point regarding natural light assists here too.  When it comes to furniture we love the sit stand desk over at Buywood Furniture (functional and beautiful).  There is so much evidence about the benefits of standing that it is certainly worth the consideration.  When selecting an office chair there are many beautiful options however you should prioritize an adjustable seat height and tilt function.  For more info on ergonomics head to https://www.ergonomics.com.au/what-is-ergonomics/  Your body will thank you for it.
Colour
So that's some of the functional things out of the way but what about the things that give you that warm and fuzzy feeling.  There is no reason an office space should feel utilitarian.  There is no doubt that people are drawn to more beautiful spaces, however there's more to it than that.  Design elements like texture, lighting and colour can actually elicit moods in people offering somewhere that feels safe, creative, exciting…whatever you need it to be.  For example, colour can reduce stress and improve focus and creativity if selected correctly.  Timber finishes and leaf patterns offer a connection to nature which helps reduce stress and encourages happiness.
For colours most in tune with our psychology choose tones referenced from nature and understand which colours elicit which feelings and outcomes.  For example blue creates spaces for greater focus and the colour green increases creativity.  Red encourages urgency (the reason it is used for emergency buttons) which may cause stress while yellow delivers feelings of happiness.  It is important to consider the balance of colour in your space.  While you may want to include yellow for happiness it can also be distracting so consider restricting it to a small pot or piece of art.
If your office happens to be in a larger space, colour can have the added benefit of zoning your space.  Don't feel the need to use your colour in a traditional way.  It could be angled down a wall for creativity, a painted pinboard for your important notes or coloured furniture such as shelving or a chair.  You may even have the opportunity to create a reset pod for employees by walling off a small section and painting it in a warm, soothing colour such as Porters Paints Burmese Grey. Or if you're looking for a purpose built option check out The Nook.
Some Fun Design Elements
Now we wouldn't be designers if we didn't mention some of the things we love to include in our own offices.  So here are our must haves for the warm and fuzzy feelings:
Some excellent art.  Like the kind of art that inspires you or relaxes you.  Something that makes you smile.
A plant, or five.  Really the limit is probably based on space and how many you can keep alive.  Not only do we love the way they look, they're excellent air cleansers which is much needed if you're spending your whole day in there.
A rug.  Of course it's technically not needed (especially in our warmer months) but texture really can make a room feel more comfortable.
Open shelving to display a few fun and personal items in amongst the work ones.
If you're in the market for new furniture, splashing out on some beautiful timber furniture by wood turners like Buywood Furniture is definitely the way to go.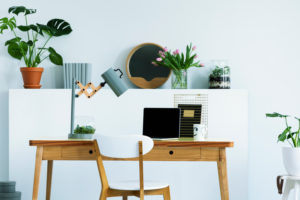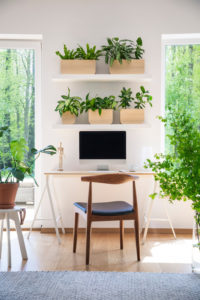 You may not be able to achieve all of these things however we hope that you treat yourself to a beautiful office that works for you.  You deserve it.  If you'd like a little one on one help why not get in touch with one of our members. 
Author: Bec Farrow (Elska Interiors)